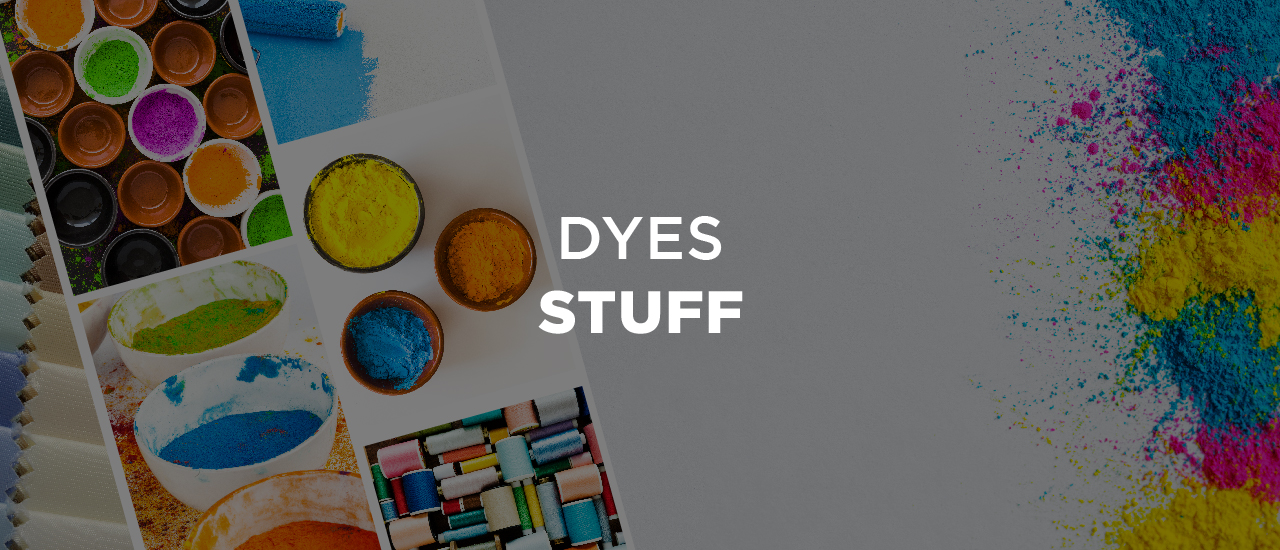 Metro Chem Industries is a leading global manufacturer of Dyes and Dyes intermediates, supplying its products to a wide range of industries including textiles, leather, personal care,food, and many others. Engaged in production and export of Dyes & Pigments which includes Reactive Dyes, Direct Dyes, Acid Dyes, Pigment Dyes, Acid Dyes, Direct Dyes, Basic Dyes, Solvent Dyes, and Food Colours and Dyes intermediates. We aim to deliver high-quality products that meet or exceed consumer expectations. We strive to be the preferred partner in different industries by providing excellent customer service and technical support for all our products.
We are committed to providing quality products that meet the requirements of the market.
Metro Chem industries is a leading Reactive Dye manufacturer, supplier and exporter. Reactive Dyes are a class of highly coloured inorganic substances, primarily used for tinting textiles, that attach themselves to their substrates by a chemical reaction that forms a covalent bond between the molecule of dye and that of the fibre. The dyestuff thus becomes a part of the fibre and is much less likely to be removed by washing than are dyestuffs that adhere by adsorption.
We offer various reactive dyes to our clients from our inventory list.
The Organic Pigment Powders are made of highly concentrated loose pigments that provide a vibrant colour. These organic pigment powders are used in industries such as Textile, Paints, EVA Rubber, Plastics, and Ink manufacturing as well as in crayons production. Organic Pigments are useful in creation of mild wash colours and never streak while in usage. The Organic Pigment Powders are also used in production of Paints and Colouring materials such as Pastels, Chalks, Coloured Pencils, Enamels and Acrylic Oils.
This data has been complied to illustrate technical information on Metro Chem Industries, one of leading Inorganic Pigments manufacturers. These pigments are mainly used in Paints, Printing Inks, Plastics, Synthetic Leather. We adhere to stringent quality standards with well-equipped laboratory manned by qualified personal, Our R & D is ongoing to tailor to individual customer requirements.
Metro Chem Industries is a leading manufacturer and exporter of Acid Dyes. Our Acid dyes are utilised in the process of dyeing and colouring protein and animal fibres like wool, nylon, fabric and silk. They have high wash fastness which provides best colour quality. Our Acid dyes are in high demand and used in bulk quantities in textile dyeing, printing, leather, wool coating and ink industries. The complex structure, large aromatic molecules, and water-soluble anionic property of acid dyes enhance the solubility and help them stick well with cationic groups in fibre for long lasting effect.
The range of dyes available from Metro Chem Industries is extensive, with a wide range of colours and applications. Basic dyes are characterized by bright colours, magnificent fluorescence (mainly rose red, yellow, orange, etc.), and strong colouring power. We offer Basic Dyes that are widely used in the textile industries and other industrial applications. They give intense colours with excellent wash fastness even in harsh conditions. The dyes are also offered in clear liquid form, which is mostly applied in acrylic fibers manufacturing and deep brown to black shades.
We are successfully supplying Solvent Dyes like solvent yellow, red, blue, black, orange, violet and green to various industries. The solvent dyes are manufactured in a highly controlled and monitored process to ensure best quality products are achieved. Product quality is being maintained all through the manufacturing process by thorough quality inspections as well as end line quality testing. These dyes are extensively used in fuel, oil lubricant, grease, wax, and plastics colorations. The formulations are highly concentrated colorants available in both liquid and powder form in different colours like solvent yellow (7, 21, 82), solvent red (8), solvent orange (8), solvent blue(4), solvent black(27), solvent violet(8)
Our Company is one of the leading manufacturers of Direct Dyes & for there are certain products we are the only manufacturers in India.
Direct Dyes are designed for the primary purpose of dyeing of cotton and cellulose. Direct dyes have extensive use other than cellulose fibers, many being of outstanding importance for use on Cotton, Paper, Leather, Silk and for many miscellaneous purposes such as Inkjet inks, biological stains, indicators etc. We produce complete range of Direct Dyes & for there are certain products we are the only manufacturers in India.
A quality salt free liquid dye, that is manufactured through a highly controlled process involving only membrane filtration systems. The quality and purity of these dyes ensure the desired colour fastness, stability, and authenticity. Our range of salt free liquid dyes can be used in a broad range of applications to give you the best colour result!
Our Vat Dyes give a brilliant colour and we have different shades to choose from. They are applied in a soluble and reduced form to impregnate the fiber, then oxidized back to the original insoluble form. Through our manufacturing process, we are able to achieve brilliant colours in most of the shades.Indigo is the original vat dye, and it is a natural dye from the indigo plant. These dyes are used with mordants to dye other fabrics such as wool, nylon, polyesters, acrylics and modacrylics.
These dyes are fast-drying and mainly used for cotton, linen and rayon fabrics.
At MCI, we're committed to providing you with the highest-quality synthetic food colours available. Our food colours are used in a wide variety of applications in industries like the food, pharmaceutical, cosmetic, and chemical industries.
We understand that the quality of these products is important to you—that's why we use only the best ingredients and strict manufacturing practices to ensure that our products always meet or exceed your standards for quality.
Lake colours are used as food colours and in pharmaceuticals, cosmetics and plastics manufacturing. They can be dispersed in oils, fats and sugar-based carrier to impart brilliant colouring to products. The lakes are manufactured through a controlled process by precipitating a soluble dye with a metallic salt to give the lake pigment. Quality is ensured throughout the production process to assure our customers get the best value for money.
COSMETIC COLOUR & PIGMENT
Metro Chem Industries is a leading manufacturer of Cosmetic Pigments. Metro Chem Industries has a wide range of pigments that are used to colour cosmetics, medicines, and personal care products. Our exceptional quality ensures that our products meet or exceed the most stringent standards in the global market.
MCI offers a wide range of pigments & cosmetic colours for Cosmetics & Personal Care applications to enhance the appearance and add aesthetic value to the finished formulations for permanent makeup, eye makeup, lipsticks, nail polishes, lip care, foundations, etc.
Metro Chem Industries is one of the well-known Soap Dyes Manufacturers, Exporters and Suppliers in India. We have various products in powder and liquid form which are available in water soluble and oil soluble grades. We are leading manufacturer and exporter of dyes for soap, colourants for soap, dyes for detergent,car washing Soap, colourants for detergent.
Blended colours are created by combining two or more different types of colours to get the desired colour. These food colours are created by combining two or more water soluble food colouring ingredients in a number of ways to produce various tones. To ensure compliance with food safety regulations, the colours are manufactured with extreme care and attention to detail.
Looking for colours that adds value to your product.